Dental Braces in Bangalore
AllCare Dental is the best dental clinic in Bangalore. We provide all dental services such as teeth cleaning, fillings, root canals, crowns, implants, veneers, teeth whitening, and more. We use the latest dental technology and equipment to provide you with the best possible care.
Our team of experienced dentists and dental hygienists are passionate about their work and are dedicated to providing you with the highest quality of care. If you are looking for a dental clinic in Indiranagar, then please visit AllCare Dental.
Dental clinic in Bangalore or the dental braces are such a device which is used by the orthodontics in order to align the teeth as well as their position keeping in mind a person's bite. Mostly they are used in order to correct the malocclusions i.e. under bites, overbites, cross bites and open bites or crooked teeth and different other flaws of the teeth and jaws be it cosmetic or structural. in dental clinic in Bangalore the dental braces are mostly used in conjunction with the other orthodontics surveillances. It is done with the other orthodontics appliances in order to the palate or even the jaws would shape the teeth accordingly.
One of main benefits to known throughout as a benefit of braces is that of having a beautiful smile. The self esteem automatically goes up as the confidence level rises with the day to day activities. The teeth and jaw joints are easy to use once the teeth are back in place and are sticking to each other together the way it should actually be. Having straight teeth is a major help for a person as they and their dental team can keep them clean really nice. If ever a filling or ridge or even a crown is required the dentist can do a restoration. This is possible if the teeth are aligned properly. This way the appearance of the teeth as well as the face is improved.
Most often it is noticed that the dental care among the children is often neglected. The care of the teeth is equally important among children as it is for us adults. The children should be taught the new and improved as well as good habits of brushing teeth. This would give them strong and healthy teeth.
Though dental clinic in bangalore are used mostly on children and adolescents but now-a-days adults can also use them as well. Once the alignment is done then there are no worries for the patient as he can live a life finally of freedom as well as full of life.Rubber bands, braces, springs and various other appliances, have the tendency to attract food and plaque. This may stain the teeth of a person if not brushed immediately.
The doctors and staff of the Best dental clinic Bangalore provide modern, patient focused dental care for all your family's needs. Your dental health is important to you, and your dental health is important to you. You work hard for your money, so it's imperative that you get the care you deserve.
Almost all the orthodontists would recommend that brushing after every mean is advisable. This should be done with a fluoride toothpaste and remove all the food that may have gotten stuck in there within the teeth or even the braces. A few may recommend a fluoride mouthwash which can reach places where normal tooth brushes won't.
The doctors and staff of the Best dentist in Bangalore understand that, and make every effort to provide affordable, high quality dental care that meet your needs.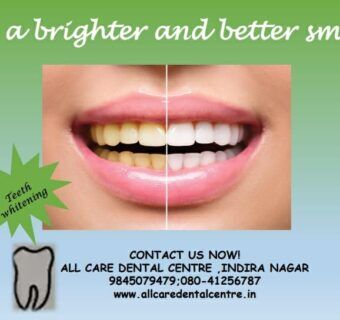 Frequently Asked Questions
What are the three phases of orthodontic treatment?
orthodontic treatment and your road to a winning smile usually entails 3 stages – the design Stage, Active Stage, and Retention Stage..
How long is orthodontic treatment?
Treatment plan varies from person to person. Average time is 8- 12 months.
Why is orthodontic treatment important?
Orthodontic treatment helps ensure proper function of teeth and create healthy smiles. A good bite makes it easier for you to bite, chew and speak. Teeth that are misaligned are harder to clean and can cause abnormal wearing of tooth enamel which can lead to extensive and expensive dental procedures.
At Allcare Dental, dental clinic in Indiranagar we are proud to offer a wide range of dental braces in Bangalore. Whether you are looking for traditional metal braces or the latest in clear braces, we have a option to suit your needs and budget. We understand that choosing the right braces can be a daunting task, which is why our experienced team is on hand to offer advice and guidance throughout the process. We believe that everyone deserves a beautiful smile, so we offer a range of financing options to make treatment affordable for all. To learn more about our dental braces in Bangalore, or to schedule a consultation, contact us today.