Dental Veneers Treatment in Bangalore
Professional Preparation & Placement of Dental Veneers in Bangalore
Allcare Dental is the best dental clinic in Bangalore that offers a wide range of dental services. All care Dental has a team of experienced and qualified dentists who provide high-quality dental care to their patients. All care Dental offers a wide range of dental services such as teeth whitening, teeth cleaning, braces, and more. All care Dental is committed to providing the best possible dental care to their patients.
Dental Veneers are an amazing way to improve your smile. Dental veneers are tooth-colored, thin shells that are attached to the surface of the tooth to enhance the appearance of the front surface of the tooth.
"All Care Dental Centre" provides professional preparation and placement of dental veneers for patients looking for an even and symmetrical smile. They specialize in cosmetic dentistry and aim to provide satisfactory and high-quality veneers to conceal different tooth cosmetic concerns, including broken, chipped, discoloured, or smaller teeth. At all Care Dental Centre, you will find cost-effective and high-quality veneers that make you more confident when you smile.
The doctors and staff of the Best dental clinic Bangalore provide modern, patient focused dental care for all your family's needs. Your dental health is important to you, and your dental health is important to you. You work hard for your money, so it's imperative that you get the care you deserve.
What are Dental Veneers?
Dental Veneers are tooth coloured and thin shells that are prepared to help people conceal different tooth-related cosmetic concerns. They are attached to the front surface of teeth to improve their appearance and get rid of any anomalies.
Veneers can be prepared using different types of materials, including porcelain or resin composite materials that can be easily bonded to the teeth.
Dental Veneers help people cover their broken or chipped teeth and also create a symmetrical smile with the help of 6 to 8 veneers. They are most commonly made out of porcelain. However, the market today has no-prep veneers that include options that are less invasive and time-consuming.
The doctors and staff of the Best dentist in Bangalore understand that, and make every effort to provide affordable, high quality dental care that meet your needs.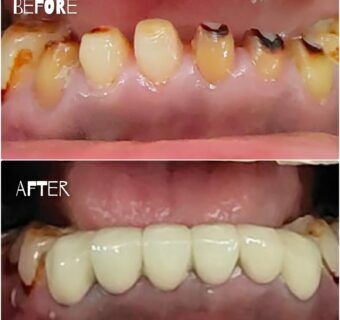 Dental Veneers Process at All Care Dental Centre
At all Care Dental Centre, dental veneers are carried out in 4 steps that make the process of treatment hassle-free.
Step 1: Doctor Visit and Comprehensive Consultation
Step 2: X-rays to evaluate teeth
Step 3: Planning and preparing for dental veneers to get accurate sizing
Step 4: Placing the prepared veneers
That's it! All Care Dental Centre follows a straightforward process.
Meet the Best Dental Veneers Expert in Bangalore
If you have been looking for the most professional and cost-effective dental Clinic in Bangalore, " All Care Dental Centre" shall be your solution.
The " All Care Dental Centre" is managed by Dr. MJ Murali, a leading endodontist, and implantologist. The clinic is equipped with a dedicated team of administrative staff and professionals with all modern facilities that ensure your high-quality advanced dentistry.
All Care Dental Centre promises to deliver the best in city Dental Veneers.
You can request an appointment and find your happy smile with the help of our expert doctor and friendly staff.
to know more visit
Dental veneers are a popular treatment to improve the look of your smile. They are made from thin porcelain shells that are custom-made to fit over your existing teeth. Veneers can be used to correct a wide range of aesthetic issues, including gaps, misshapen teeth, and discoloration. The treatment is also extremely durable, and with proper care, your veneers can last for many years.
we understand that your smile is important to you. That's why we offer a variety of cosmetic dental procedures, including dental veneers. Veneers are thin, custom-made shells that are designed to cover the front surfaces of your teeth. They are an ideal solution for people who have chipped, stained, or otherwise damaged teeth. Veneers are made from porcelain or composite resin, and they can be color matched to your natural tooth color
We are equipped with the latest dental equipment and offers a clean and comfortable environment for all patients. We also offers a loyalty program for all its regular patients. We are the best dental clinic in Indiranagar because it offers high-quality dental services at an affordable price.
to know more visit