Fast Whiter Smile with Teeth Whitening in Bangalore
At our best dental clinic in bangalore, we offer a number of teeth whitening procedures that can help to brighten your smile. Using the latest techniques and technologies, our skilled team can remove stains and discoloration, leaving your teeth looking their best. We understand that everyone's needs are different, and we will work with you to create a customized treatment plan that meets your individual requirements. Whether you are looking for a quick touch-up or a complete transformation, we are here to help.
We offer professional teeth whitening in Bangalore that can effectively remove stains and discoloration. Our team of experienced dentists will work with you to achieve your desired results. In just a few short sessions, you'll see a noticeable difference in your smile. allcaredental is the best dental clinic in Bangalore, and we're dedicated to providing our patients with the highest quality care possible.
Allcare dental Centre is a professional teeth whitening service provider in Bangalore. We offer the latest and most effective teeth whitening treatments at our clinic. Our team of dentists are experienced in providing teeth whitening treatments that deliver results within minutes. If you are looking for an affordable and effective way to achieve brighter teeth, Allcare dental Centre is the right choice for you.
Allcare Dental is a Best Dental Clinic in Bangalore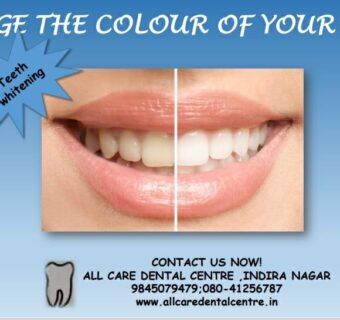 If your teeth appear grey or yellow and you want to feel confident with your teeth, you owe an appointment to the finest dental centre and clinic that provides 100% professional teeth whitening services. If brushing your teeth twice a day and flossing regularly is not making a difference on your teeth, come to All Care Dental Centre.
"All Care Dental Centre" is a Best Dental clinic in Bangalore that was established in 1969. One of the most reliable dental clinics in Indira Nagar, All Care Dental Centre presents a variety of dental cosmetic procedures and treatments. At All Care Dental Services, you will find approaches that match international standards.
AllCare Dental is proud to offer professional teeth whitening services to our clients in Bangalore. We use the latest technology to achieve optimal results, and our experienced team of dentists can help you achieve your desired level of whiteness.
What is Teeth Whitening?
If you have teeth that make you nervous and require instant whitening, All Care Dental Centre provides teeth whitening, which is a technique that can whiten your teeth. They use the latest and advanced endodontic therapy to whiten your teeth and help you feel confident while you smile.
The doctors and staff of the dentist in Indiranagar provide modern, patient focused dental care for all your family's needs. Your dental health is important to you, and your dental health is important to you. You work hard for your money, so it's imperative that you get the care you deserve.
The results of teeth whitening are fast and long-lasting. Compared to other teeth whitening in Bangalore alternatives available in the market that take up to weeks and months for visible results, teeth whitening at All Care Dental Centre takes just one sitting.
If you're like most people, you want your teeth to look their best. After all, your smile is one of the first things people notice about you. And while there are many ways to achieve brighter teeth, not all of them are created equal. That's why it's important to choose a reputable and experienced dental clinic for your teeth whitening needs. AllCare Dental is one of the dental clinic in Bangalore, and we offer a wide range of teeth whitening services to help you achieve the beautiful smile you deserve. We use only the best products and latest technologies, so you can be confident you're getting the best possible results. We also offer a variety of payment options to suit your budget. So if you're looking for the best dental clinic in Indiranagar, look no further than AllCare Dental. Contact us today to book an appointment.
Dental Enamel Shaping Process at All Care Dental Centre
At the All Care Dental Centre, the dentist follows a step-by-step process to ensure you have a radiant smile.
Step 01: Dentist Consultation
Step 02: Shield lips and gums
Step 03: Making the whitening gel
Step 04: Applying the gel
Step 05: Keep away from certain foods and drinks for up to 72 hours
Meet the Best Teeth Whitening Expert in Bangalore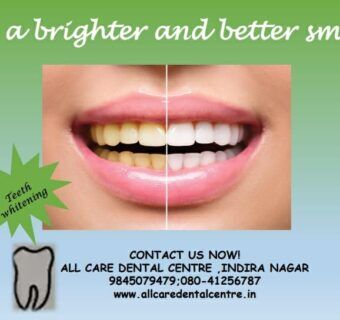 If you are unhappy with the dullness of your teeth, you can contact All Care Dental Centre to brighten your smile. Professor Dr. M J Murali is one of the most skilled dental clinic in Bangalore who heads the centre and clinic. They present an extensive range of advanced dental care and treatments with care.
All Care Dental Centre ensures quality oral healthcare and faster, whiter smiles. The head dentist, along with his professionals, aims to go above and beyond to help their patients smile brighter.
They ensure that you receive the personalized treatment and leave feeling confident with your smiles!
Forget feeling that a brighter smile will cost you a fortune; All Care Dental Centre can help you radiate without spending a lot of money.
The doctors and staff of the Best dentist in Bangalore understand that, and make every effort to provide affordable
Contact us today to schedule a consultation and see how we can help you achieve the perfect smile.
Frequently Asked Questions
1) Does teeth whitening damage your teeth?
It's "yes" and here's the reason Hydrogen peroxide that is used in tooth whitening products could cause harm to your tooth. The incorrect use of whitening products can cause damage. Too much whitening or having bleaching procedures done too frequently could cause damage to teeth
2) Does enamel grow back?
Tooth enamel is among the hardest tissues that exist in our body. The problem is that the enamel isn't living and therefore it isn't able to be naturally regenerated. It is awful that you can't grow it in a controlled manner, not even with the special toothpastes.
3) Why do my teeth look more yellow after whitening?
It's not uncommon to observe your teeth turning in color as you age. If you notice some of your teeth becoming white, while others are changing color following whitening treatment, this could be an indication that you have teeth with thin enamel. ALL CARE DENTAL CENTRE was established in 1969and is one of the leading dental service providers in Bangalore.